Home / What To Wear On A Long Haul Flight and Look Stylish?
Ready to go on your big adventure that involves spending time flying through the air? We're talking about those super-long flights that can sometimes be so boring. But don't worry! We have the perfect guide to help you figure out what outfit to slay at the airport. This way, you won't just survive the super long flight but also look stylish while you're at it. Because who says you can't totally rock your outfit even when you're cruising way up at 30,000 feet?
Let's jump right into the amazing world of picking the best clothes for those marathon flights.
Outfit Tips For Long Haul Flight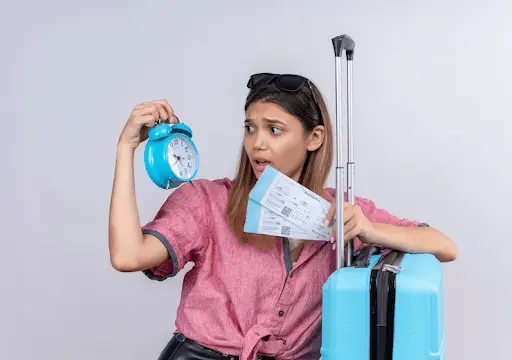 Oh, the classic problem: feeling comfy or looking cool. First of all, it's important to understand that you don't need to give up one for the other. In fact, there's a way to find the perfect balance between feeling good and looking awesome.
So, no worries, you can totally nail this!
Wear Wrinkle-Resistant Fabric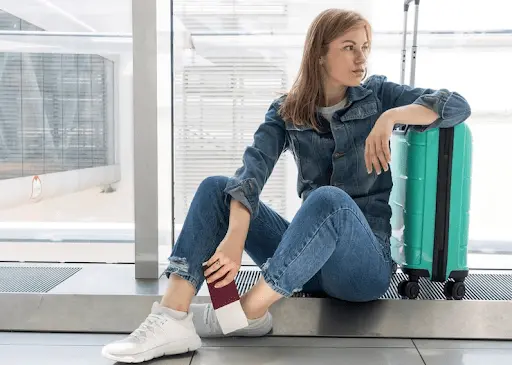 Moving from the busy airport to your cosy aeroplane seat can sometimes leave your clothes feeling like they've been through a wild wrestling match. But hey, don't worry! Wrinkle-resistant fabrics can save the day. So, whether you're on a short flight or embarking on an epic journey across the skies, remember this fashion secret: Choose fabrics that fight wrinkles.
Jersey knits, synthetic blends, and trusty polyester are here to ensure you look as fresh at the end of your journey as when you took off. Say goodbye to rumpled outfits and hello to stylish comfort!
Carry A Blazer (Trust Us With This)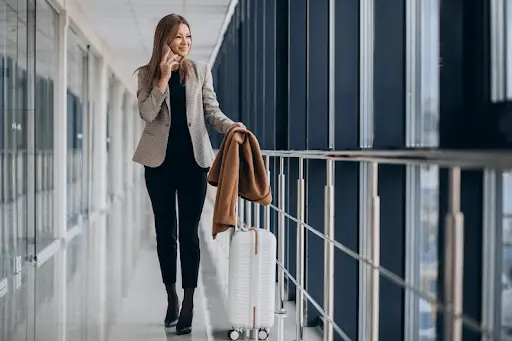 So, here's the deal: a blazer might sound a bit fancy, but it's not just for formal occasions. Blazers are not just about looking stylish. No way; they are also incredibly practical. Imagine this scenario: sitting in your seat, and the aeroplane air is chilly. What do you do? Bam! Your blazer comes to the rescue. It's like a cosy shield against the cool air.
And don't worry about space because a lightweight blazer can be easily folded and tucked into your bag when you're not using it. So, you're not sacrificing any legroom or storage space for the sake of style.
Buy A Chic Bag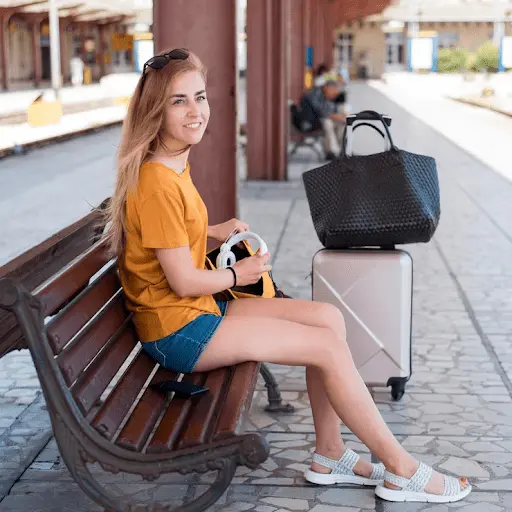 First things first, a chic bag isn't just about looking cool. Nope, it's way more than that. Think of it as your trusty sidekick that holds all your important stuff while you're up in the air. But hold on; it's not just about function; it's about style, too. That's right, the bag you choose can totally amp up your outfit game.
So, here's the deal: go for a bag that complements your overall look. For instance, a trendy backpack can be your go-to if you're rocking a casual vibe. Or, if you're all about that classy feel, a spacious tote bag might be the way to go.
Wear Comfy Co-Ord Sets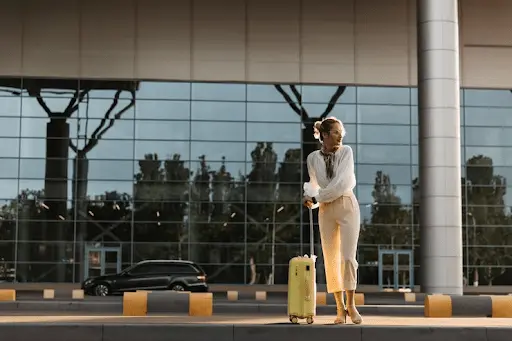 Coord sets are matching outfits that come with a top and a bottom that go together like peanut butter and jelly. Can you believe it? You get the comfort of your favourite PJs mixed with the style of a fashionable ensemble. Talk about having the best of both worlds!
Let's break it down: these sets are designed to make you feel like you're getting a cosy hug all day. And here's the cool part: these sets come in all sorts of styles. So, whether you're into trendy prints or classic colours, there's a co-ord set that matches your vibes.
Be Practical With Layering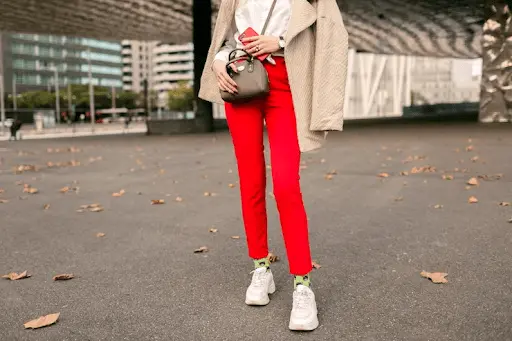 Layering isn't just about creating a stylish look; it's a survival strategy. The temperature on planes can be as unpredictable as your country's economy. Start with a light shirt, add a comfy sweater, and top it off with that blazer we talked about earlier.
You'll be prepared for any temperature curveballs. Also, don't forget to go all cool and trendy with layering!
Oversized Sweatshirt + Sweatpants = The Ultimate Combo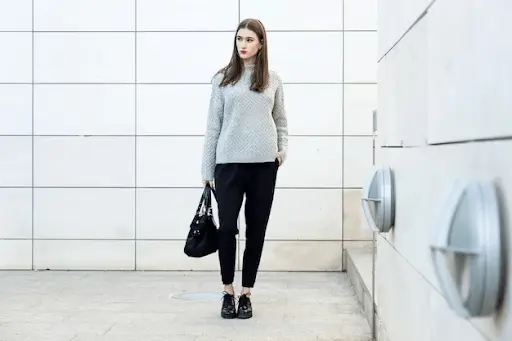 Oversized sweatshirts and sweatpants are like the best pals you never knew you needed. Imagine this: These pieces are intentionally bigger than your regular size, giving you that loose and comfy feel. And guess what? They're basically saying, "Hey, you can totally be cosy and stylish at the same time!"
Here's the cool part: you can mix and match them or wear them together as a set. It's like a fashion math equation: oversized sweatshirt + sweatpants = instant chic comfort. And you know what else? You can totally rock this combo with some trendy sneakers. Just think about it: comfy shoes that make your whole outfit pop; it's like adding a sprinkle of awesomeness to your look.
Buy Shoes That You Can Keep On For 24 Hours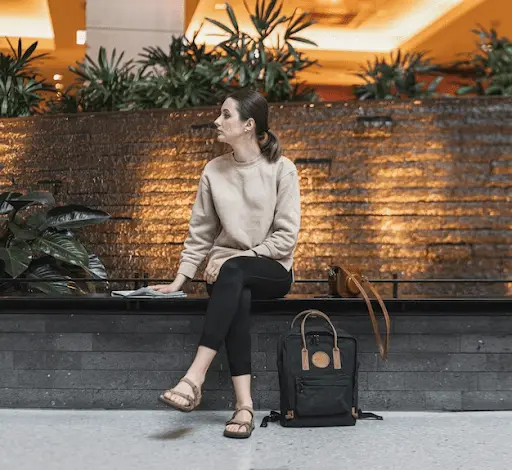 The struggle is real when you're at the security checkpoint, trying to remove your shoes without holding up the line. But hold up, you don't need to worry about that anymore. Why? Because slip-on shoes are here to save the day! Imagine this: You breeze through security without the whole shoelace drama. It's like a smooth move that leaves you feeling cool and collected.
And guess what? Slip-on shoes are like your fashion BFFs. Why? Because they're not just easy to put on and take off but also incredibly comfy. Think about it: you're walking through the airport, and your feet feel snug and cosy. Additionally, they come in all sorts of styles, from trendy sneakers to classic loafers. So, whether you're into that sporty look or all about the chic vibes, a slip-on style suits you.
Travel With Emenac Travel & Forget All Your Troubles
Emenac Travel is your go-to team when it comes to making your trip a total breeze. Booking flights? Yep, they've got it covered. Finding the perfect place to stay? You betcha. Actually, Emenac Travels is like your personal travel genie. You tell them your wishes, and they make them happen. It's like having a magical wand that turns your dream vacation into reality.
But here's the cool part: When Emenac Travel is on the case, you can say goodbye to stress. Why? Because they handle all the nitty-gritty stuff, leaving you with one less thing to worry about. Think about it: instead of getting caught up in the chaos of travel planning, you can focus on what really matters, enjoying every moment of your adventure.
Long Story Short
Looking chic on a long-haul flight is not just a dream; it's a reality waiting to happen. Remember, comfort and style can be besties, and with some strategic outfit planning, you'll be walking through airports like a runway model. And if you're ready to elevate your travel experience, let Emenac Travel be your guiding star.
Now, conquer the skies and the fashion game, one flight at a time!